Essex Mains and Private Drainage Contractors
Essex Drains are pleased to be able to provide a fully bespoke drainage contracting service to all of our clients. Whether you're looking for mains drainage installation or mains drainage maintenance and drainage repairs, Essex Drains offer a variety of mains drainage services for both domestic and and commercial properties.
Specialising in all aspects of private drainage services, we are experts in our field and take pride in all work carried out. Septic tank installation and repair, sewage pump installation, sewage treatment services, flood damage repair, flood control services and water pump installation are all within our remit. With an excellent reputation for mains drainage servicing spanning over 20 years and a thriving business built on satisfied customer recommendation, we are confident that the mechanical and electrical engineers at Essex Drains can provide a fully tailored mains drainage servicing and drainage installation service to suit your needs.
Private and mains drainage repairs and services in Essex
Handling all aspects of your private drainage repairs, servicing and mains drainage servicing requirements. Essex Drains can repair drainage piping or install plumbing and perform uPVC drain repairs. Modernising existing drains in period properties we can link these to a mains drainage network or carry out septic tank installation.
Septic tank repairs, installation and maintenance services
Looked after properly, and regularly your septic tank is an effective method of dealing with foul waste, but it should be monitored and maintained to make sure that it continues to operate adequately. We have everything you need to ensure smooth running from your septic tank, with no nasty odours. Our range of septic tank services include septic tank maintenance, septic tank repair and the Installation of septic tanks for domestic and commercial customers with the inclusion of sewage pumps, waste water removal services, sewage treatment plant installations and septic tank control panels installation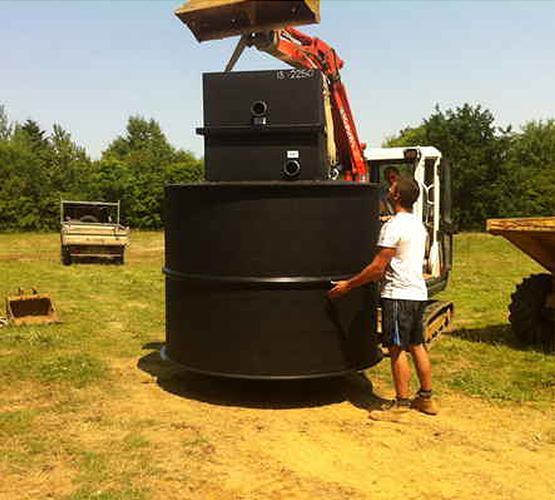 Sewage pump installation and pumping equipment installation and maintenance.
Without regular sewage pump maintenance you can rest assured that problems will occur within other areas of your drainage system. Essex Drains is able to supply and repair sewage pumps and repair pumping equipment, carrying our sewage maintenance and waste water pump maintenance with ease. Don't wait for a sewage pump emergency, with regular sewage pump maintenance you will increase the life of your sewage pump. If you are interested in sewage pump installation we can help.
Flood damage prevention and flood control services
With the risk of flooding never far away these days, flood control services are becoming more of an essential need. Our Essex drainage contractors understand that It may not always be obvious that a property is at risk of flooding. Property does not need to be close to a river, sea or low lying ground to be exposed to flood risk. An overflowing sewer is a common causes of flooding and flood damage assessment services and flood damage prevention services can both be implemented by us, with low level flood control services installation, including water pump installation and supply of waste water pumping equipment, offering your property protection from flood damage.